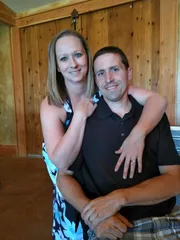 Dr. Garret Swenson
Dr. Garret grew up in rural East Grand Forks, graduating from East Grand Forks Senior High in 1999.

He attended and graduated from the Professional Institute of Massage Therapy in 2000, working as a massage therapist in East Grand Forks, MN, for a short time. He then felt the push to move forward with his education and spent 2001-2005 studying Biology and Human function at St. Cloud State University. During this time, he struggled to find that right fit in the care of people to whom he felt driven to serve. With some luck and a lot of God's direction, he found himself at the doors of Northwestern Health Sciences University in Bloomington, MN to study the art, science, and philosophy of chiropractic. He had no idea what to expect, having never been adjusted, but he felt the path was clear for what he was set to do. Throughout the four years of study to receive his Doctorate in Chiropractic, Garret had his life transformed, saw the healing power of the body, and burned with the idea that if we change our lifestyle…we change our life!! He graduated in 2008 set to make change in the world one person at a time, and lives to fulfill those aspirations and possibilities today.
---
Dr. Sheila Swenson
Dr. Sheila grew up in Dickinson, ND, where she graduated from Dickinson High School. She knew for a long time
that she was meant to become a chiropractor, so after graduating from high school, she moved to Fargo, ND, to begin undergraduate studies at NDSU. After completing the needed requirements, Dr. Sheila moved to Minneapolis, MN, and began her studies at Northwestern Health Sciences University. It wasn't all smooth sailing to get there, and she almost gave up the dream, because the intense schooling provided little in the way of building on her core values: family, God, and service. But at just the right time, God put the people in her life to show her how she could fulfill her dream and live the life she had envisioned. They helped carry her through, and Dr. Sheila graduated from Northwestern Health Sciences in November of 2006. Dr. Sheila's passion is to see lives changed through the work of chiropractic care and the healing power of eating well, moving well, and thinking well. She specializes in the care of infants, children, and expectant mothers, but is willing to meet any challenge head-on – be it chronic diseases or the person looking to be optimally healthy.

Drs. Garret and Sheila met as Sheila was prepping to graduate and Garret was trudging through the busy first semesters at school. Their first encounter came at a seminar called Create Your Destiny and the rest is history. They were married in 2007, adding Cadence, Logan and Walker to the family. Besides spending time with their family and friends, the two enjoy running, traveling, reading, basketball, concerts, church groups, and a variety of other activities. Their vision is to build a stronger, more informed generation of health consumers who: choose to be proactive in their health, recognize the consequences of their actions, and have the opportunity to live the best life possible.
---

If you have any questions about our Grand Forks chiropractors, or would like to learn more about chiropractic care at Renewed Hope Chiropractic & Wellness, please call us at 701-738-0990 today!